Therapies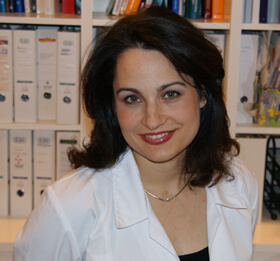 Private centre
for dermatology, vein and laser medicine
Dr. med. Yael Adler

Richard-Strauss-Straße 37
Ecke Hagenstrasse
14193 Berlin - Grunewald
Appointment by prior arrangement on the telephone
Fon: 030 / 8800 1854
Fax: 030 / 8200 7899 708
Mail: praxis@dradler-berlin.de
My private practice is situated in the proximity of the Kurfuerstendamm in Berlin-Grunewald. Here you can find the entire scope of modern dermatology, laser medicine, and aesthetic dermatology.
These include a comprehensive screening for cancer risk factors of the skin by means of a reflected-light microscope, skin surgeries in compliance with the latest medical guidelines which simultaneously include cosmetic standards, children and adult-allergology, sports dermatology, and phlebology (varicose vein therapy). For the diagnosis of spider and varicose veins I use ultrasound (Doppler sonography) and bright LED-light (Veinlite transilluminator).
By the use of the newest treatment technologies, problems such as skin appendages, age related warts, age spots, brown pigment spots, small red and blue blood vessels, Couperose (rosacea), scars, wrinkles, coarse-pored  and sagging skin, cellulite, and excessive body hair can also be gently dealt with. In addition, I apply the whole scope of laser systems, including fractional laser therapy (Fractional Laser – fractional CO2 Laser, Fraxel® Dual, Fraxel® restore. ExelO®, pulse light ("PL"), and Thermage (radio frequency).
The anti-aging and aesthetic programs are complemented by botox, peeling and fillers (hyaluronic acid for replacing lost skin volume, face modulation and injections to smooth wrinkles). I take care of you with a great deal of calm and personal dedication and guarantee that my treatment by conservative therapy, surgical interventions, and by high-tech equipment is on the highest professional level.  
I am a certified member of the DGTB (German Society for Aesthetic Botulin Toxin Therapy). The certificate of the DGTB attests security and experience in handling the botulin toxin.
Consultation dates are by arrangement and there are none or just minimal waiting times.
When appropriate, I also recommend therapies from the area of naturopathy.